5 Japanese Movies About Japanese Society And Social Stigma In April 2022
One day you will reach the sea
April 1, 2022
Synopsis:
A film adaptation of the novel of the same title by Maru Ayase, starring Yukino Kishii and starring Minami Hamabe. Mana, who is shy and unable to express herself well, meets the free-spirited and mysterious Sumire, and the two become best friends, but Sumire suddenly disappears while traveling alone. Five years have passed since her disappearance, and Mana is still unable to come to terms with Sumire's absence, and is rebuffed by those around her who treat her as if she were dead. One day, Mana receives a video camera from Tono, Sumire's former lover, whom she had cherished. What remains on camera is the time Mana and Sumire spent together and Sumire's secret that Mana didn't know. Mana heads to where Sumire last went to confront Sumire once more. Mana is played by Kishii and Sumire by Hamabe, with supporting performances from Haruki Sugino, Toshi Nakazaki, Mayu Tsuruta, Tomoko Nakajima, Yuzumi Araya and Ken Mitsuishi. Directed by Ryutaro Nakagawa from "A Long Dream in April" and "Watashi wa Hikari ni nigiritteiru.
The essence of the movie:
Many Japanese works deal with the theme of mourning for our loved ones, deceased or missing due to external circumstances such as the Great Japanese Earthquake. It can be difficult for the living to recover from not having proper closure and gradual feelings of struggle to come out of this mindset. The film also makes true reminders of events and includes real-life accounts and stories similar to those told by those who survived and were directly affected by the disaster. It's a kind of therapeutic movie that will help you get through a difficult phase in your life if you worry about your newfound loneliness and grief and find yourself unable to move on.
If there are no cherry blossoms in the world
April 1, 2022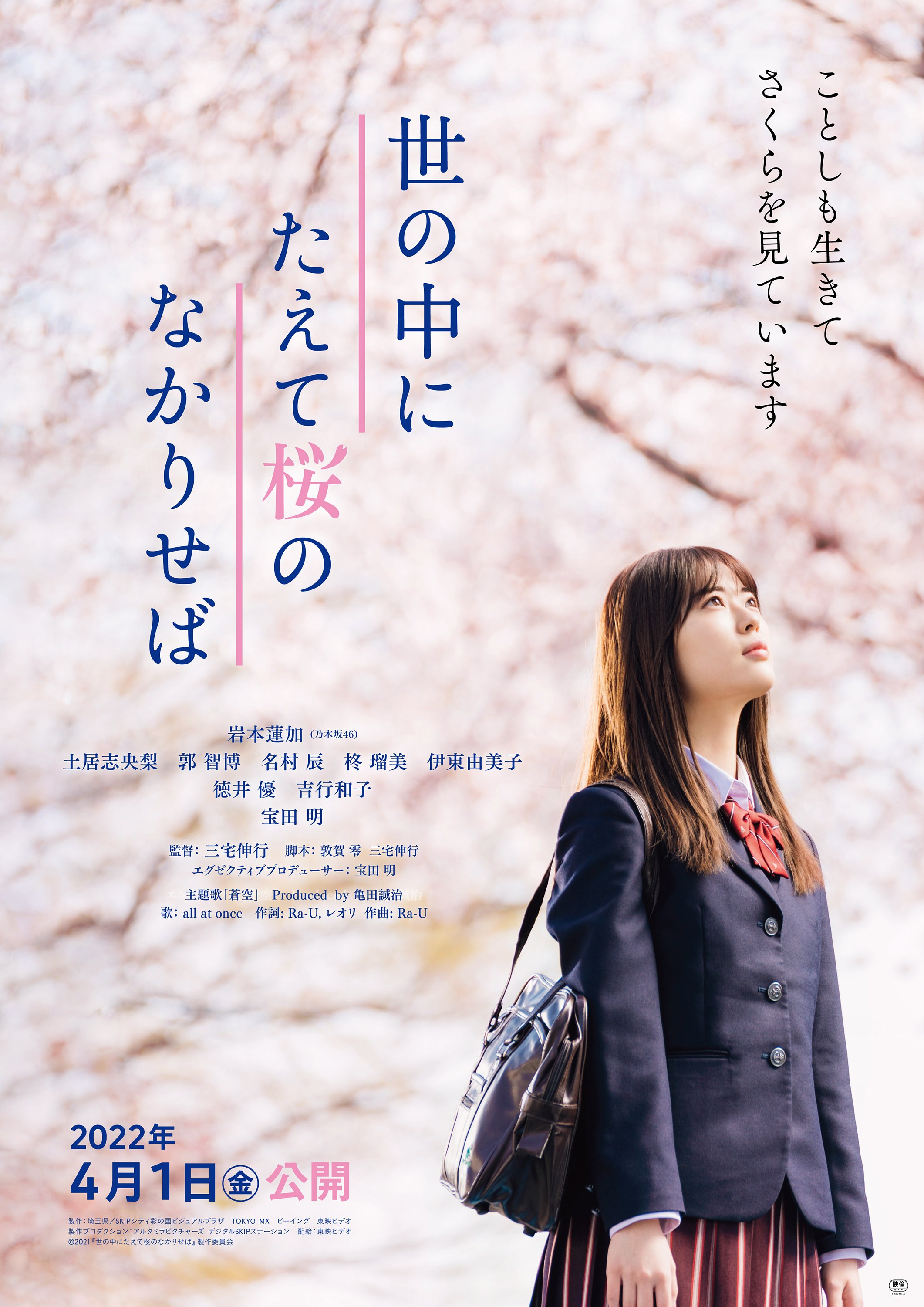 Synopsis:
Saki (Renka Iwamoto [Nogizaka46]), a high school student who hasn't attended school in some time, works part-time as an "end-of-life counselor". Along with Keizo (Akira Takarada), an elderly man she works with, they help people from all walks of life get on with their lives.
Saki's job is fraught with difficulties, and she spends her days helping those who want to leave a will for their family in case of emergency, or those who have only a few days left to live and want to preserve their memories. .
The essence of the movie:
Renka Iwamoto of "Nogizaka46" and renowned actor Akira Takarada star in this humanist drama about "Cherry Blossom Season" and "Preparing for Your Death/Ending." 「終活」or shūkatsu is an abbreviation for end-of-life activities. It is a word that means various preparations for human beings to become aware of their own death and reach the end of their life, and sum up their life towards that point.
This concept reflects the modern social context of Japan. Due to the declining birth rate and the strong growth of the elderly population, it is necessary for the elderly to prepare to end their lives without disturbing others, especially when they do not have children. Compared to before the Showa era, human relations in the local community have weakened and the "end of life" is spreading as a social phenomenon.
The main issues are preparing funerals and graves for oneself while alive, arranging one's life so that survivors are not inconvenienced, and survivors can smoothly inherit their property. Endnotes and wills are prepared in advance, and the government helps oversee the process. There is now a rapid increase in work that addresses this topic.
Ninzu no Machi (The Town of Manpower)
April 1, 2022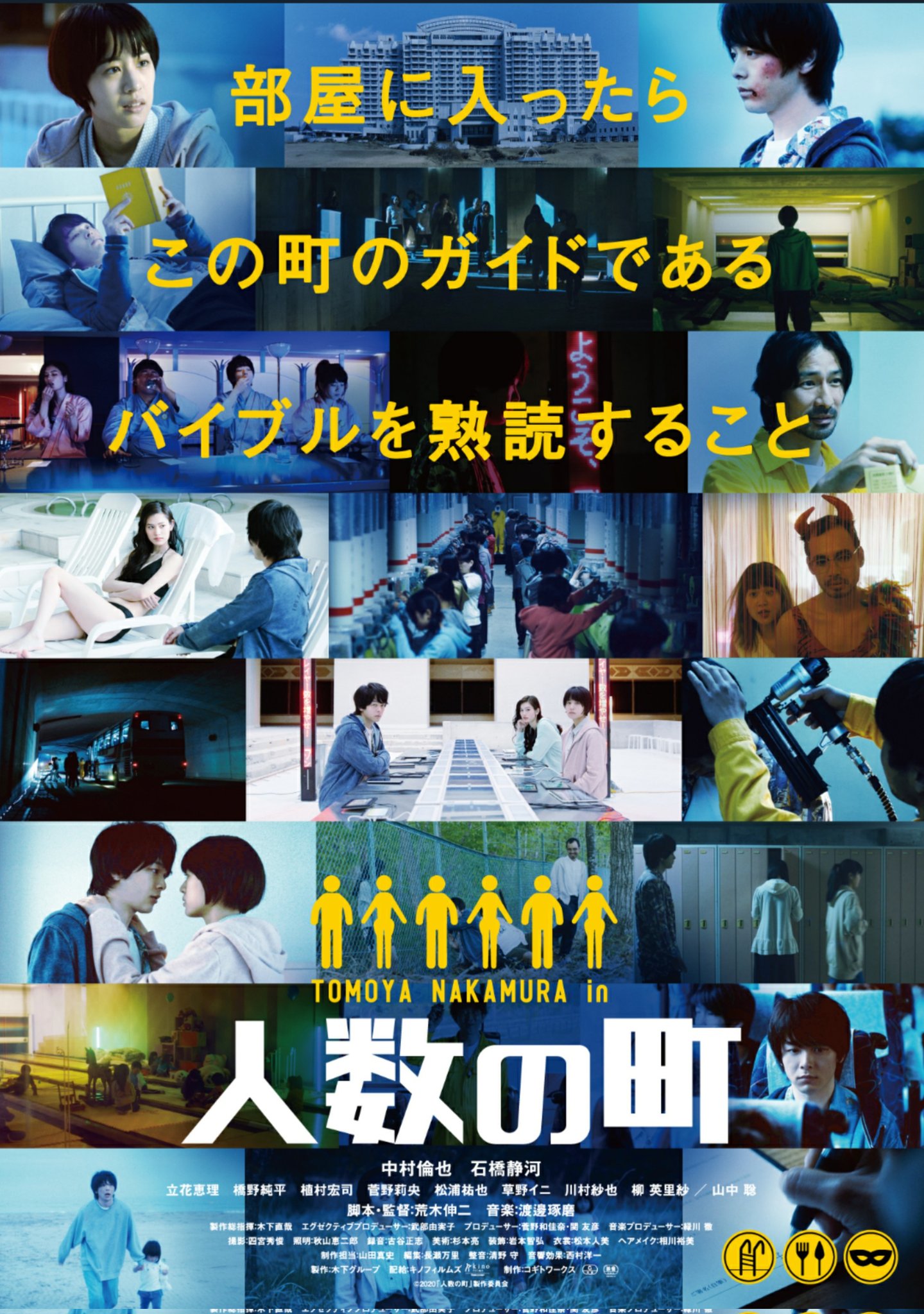 Synopsis:
Aoyama is chased and beaten by debt collectors and is saved by a bearded man wearing a yellow lampshade. The man says he will prepare a "place" for Aoyama. The man, who calls Aoyama "Dude", invites Aoyama to a strange "town".
The inhabitants of the "town" are managed by "guardians" in chiggers, and food, clothing and housing are guaranteed in exchange for a simple job. In exchange for a simple job, they are guaranteed food, clothing and accommodation. Moreover, they can also enjoy the pleasures of sex with other people related to them in the social room of the "city", the swimming pool.
Publish on the Internet, vote in elections under the guise of another person: ……. Why? For who? Time passes in the strange "town" as the locals accept these uninformed and thoughtless workers.
One day, Aoyama meets a new resident, Beniko. She says she came to this town to look for her missing sister. Unlike the other residents, Aoyama is concerned about her troubled state of mind. ……
Already released in 2020, but coming to Netflix in April 2022
The essence of the movie:
A dystopian mystery that acts as a microcosm of Japanese society, and reflects the rising number of "disappeared" people, the number of "unemployed" and highlights the strange habits of people whose habits have been so distorted. The people of this town are used to living by someone's arrangement. Through votes, posts, and protests on SNS, their will is forced by someone's agenda, just like real-life trends and how they are created based on sponsors' intentions. The "will of the people" that drives major events such as politics and diplomacy can also be a "hoax" created by someone's advice… For the people of a city, it's like selling their own will, but in the first place, has there ever been such a thing as his own will in the real world? Even if you say your actions are dictated by someone else's opinion, if you don't have a particular opinion to begin with, then what's the difference between where you live and what you done ? This film depicts a solid system that aims to expose what it means to be free these days.
I'm just a little unlucky right now
April 8, 2022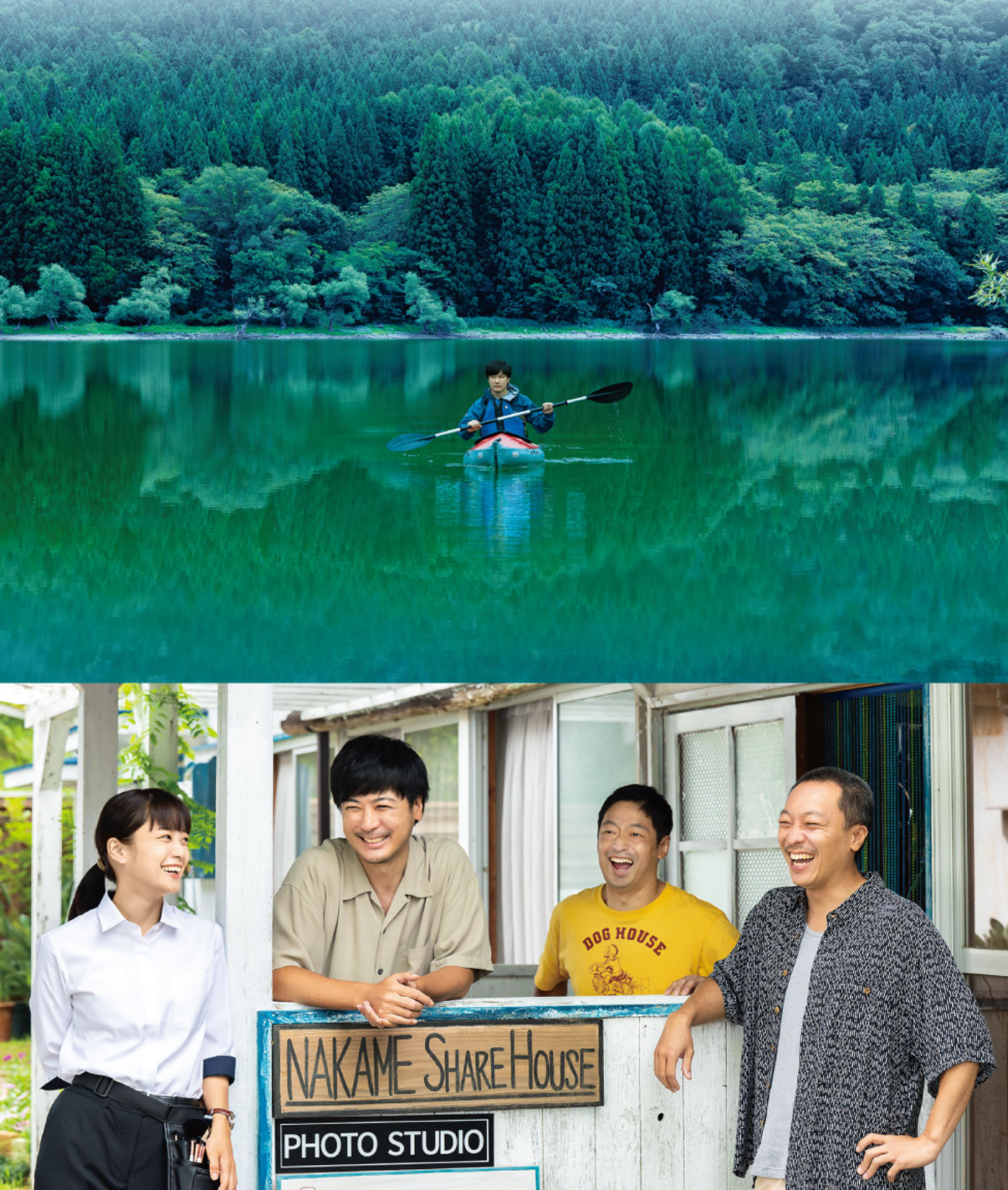 Synopsis:
A film adaptation of Yuki Ibuki's novel of the same title from "The Season the Dog Was There" and "Recipe for 49 Days" starring Tetsuji Tamayama from the NHK television series "Masan" and directed by Kenji Shibayama from "Perfect World: A Miracle with You". Hiroki Tachibana was once in the limelight as a nature photographer for television programs traveling to uncharted regions, but he lost everything when the economic bubble burst and lived for 15 years just for repay the debt owed to him by the president of the office. After giving up everything and working desperately to pay off his debts, Tachibana was now in his 40s. One day, a friend of his mother asked Tachibana to take a picture of her , and taking the picture, he remembered the joy of holding a camera he had forgotten.Trying to start over, Tachibana moves to Tokyo and starts living in a shared house . The people who live there are people who, like Tachibana, have lost their way in life. In addition to Tamayama playing the role of Tachibana, the supporting cast includes Takuma Otoo, Mai Fukagawa, Dancho Yasuda, and Kazuya Takahashi.
The essence of the movie:
A bubble is a business cycle that is characterized by the rapid escalation of market value, especially asset prices. This rapid inflation is followed by a rapid decline in value, or contraction, sometimes referred to as a "crash" or "bubble burst."
Japan's economy experienced a bubble in the 1980s after the country's banks were partially deregulated due to World War II. This caused a huge spike in real estate prices and stock prices. The dot-com boom, also known as the dot-com bubble, was a stock market bubble in the late 1990s. It was characterized by excessive speculation in internet-related businesses. During the dot-com boom, people bought tech stocks at high prices – thinking they could sell them at a higher price – until confidence was lost and a major market correction hit. happen.
The social problems associated with the bubble economy have become facts of life rather than shocking revelations, and the Japanese have come to reluctantly recognize that the good old days of the era of high growth and the bubble economy belong in the past. The broad social consensus that characterized post-war Japan, emphasizing economic growth as the overriding national goal and personal advancement as the overriding individual goal, has fractured, leaving many to wonder and debate what defines Japanese identity in a new century and a new economic, political, and social context. At the same time, Japan is struggling to find solutions to many pressing problems, most of which (immigration, an aging society, environmental concerns) are shared by other liberal democracies around the world. It is a film about the personal consequences of this heavy subject.
He is waiting
April 21, 2022 (Netflix)
Synopsis:
The main character, Kentaro Hiyama, is played by Takumi Saito and his companion, Aki Seto, by Juri Ueno in "Hiyama Kentaro's Pregnancy or He's Expecting in English" which will be distributed exclusively on Netflix. The trailer begins with a scene in which Hiyama, who enjoys a smooth sailing life both at work and at home, is faced with an unexpected event: pregnancy. Hiyama's work is hampered by morning sickness, his boss scolds him for not telling him he's pregnant, and he's baffled by the various physical changes that have occurred. Aki also never thought she would become a parent, so she is very upset when she learns of Hiyama's pregnancy. However, Aki's friend tells him, "It's a good age for men to give birth!" The woman's words made her think twice and she suggested Hiyama give birth to the child. After a heated discussion, Hiyama decides to have the baby. …… Cast members supporting the two, including Mariko Tsutsui, Lily Franky, Ryo Iwamatsu, and Kazuya Takahashi, also made an appearance.
The essence of the movie:
It takes time to overthrow the "natural" that is revisited every day, but this work, which depicts the replacement roles of men and women in the present day, will be the antithesis of a new era against the bad old common sense. . Aki grows with Hiyama and challenges him with his negative concepts of family and freedom, imposing his own values. It is work that will also give you the opportunity to deepen your understanding of gender, minorities, LGBTQ, etc., especially through a specific period of life such as childbirth.
Last posts by Mohamed Hassan
(see everything)
More from FictionTalk