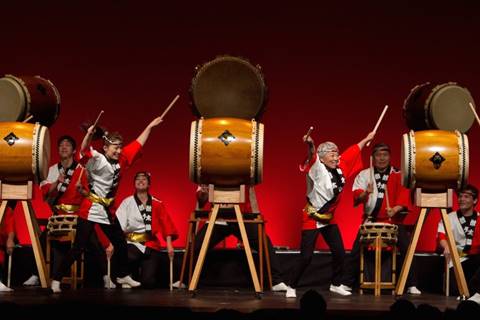 Japanese culture to be celebrated at West Hartford Festival – We-Ha
[ad_1]
The Japan Fall Festival will be held at Blue Back Square in West Hartford on Sunday October 17, 2021.
Submitted
The Japan Fall Festival is a free celebration of Japanese culture to be held on Sunday, October 17, 2021 at Webster Walk in Blue Back Square from 3 p.m. to 5 p.m.
The main event is at 4:30 p.m., with the powerful drum performance of New York's Soh Daiko.
The Japan Fall Festival will also feature Shishimai (traditional lion dance) by Steve Long and Akiko Hiratsuka, a Koto performance by Garrett Groesbeck, Japanese Folk Tales by Noriko Oshiro, and will culminate with the Taiko performance.
The Japan Society of Greater Hartford will have Japanese crafts and artifacts for sale.
"The pandemic interrupted our summer festival, so we moved it to the fall. The timing coincides with the Japanese Chrysanthemum Festival, which dates back to 1890. It is the oldest festival in Japan dedicated to this symbolic fall flower, "said Peter Watson, president of the Japan Society of Greater Hartford.
"The Japan Fall Festival is an opportunity for the community to enjoy the rich Japanese culture and music in a safe outdoor environment," Watson said.
Sponsors for this event include the Consulate General of Japan in Boston, Miyoshi America, Kooma Massage Therapy and Soutaihou.
For more information, contact Peter Watson of the Japan Society of Greater Hartford at [email protected] or Renee McCue, Public Relations Specialist, City of West Hartford, 860-561-7521.
Do you like what you see here? Click here to subscribe to the We-Ha newsletter so you'll always be up to date with what's going on in West Hartford! VSclick the blue button below to become a supporter of We-Ha.com and our efforts to continue to produce quality journalism.
[ad_2]