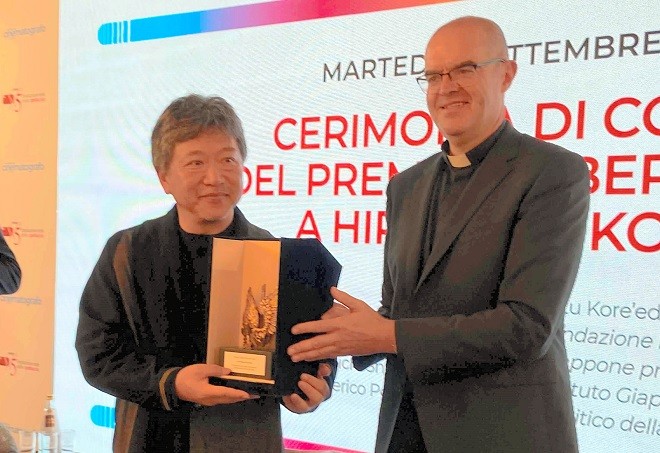 Japanese filmmaker Kore-eda receives the Robert Bresson Prize
VENICE — Hirokazu Kore-eda, an internationally acclaimed director whose films include 'Shoplifters' and 'Broker', has received the prestigious Robert Bresson Award, the first Japanese director to receive the honour.
The awards ceremony took place alongside the 79th Venice Film Festival in the Italian city on September 6.
Kore-eda praised Bresson, the great French director whose name the award bears.
"He made a masterpiece called 'The Money' at the very end of his career," Kore-eda said. "I want to remember how he continued his career to encourage me and work on my new projects."
The prize is organized by the Italian Foundation Ente dello Spettacolo and the cinema magazine Cinematografo. It is sponsored by the Pontifical Council for Culture of the Roman Curia and other institutions.
The award is given to directors whose creative works pursue the spiritual meaning of life and leave a significant mark on the world of cinema.
Launched in 2000, the prize has been awarded to established filmmakers, including Wim Wenders and Ken Loach.
Organizers said Kore-eda was honored because he updated the canon of Japanese cinema more than anyone else and raised important questions in his works about memory, death, family and love with his all-encompassing sensibility. and extremely modern.