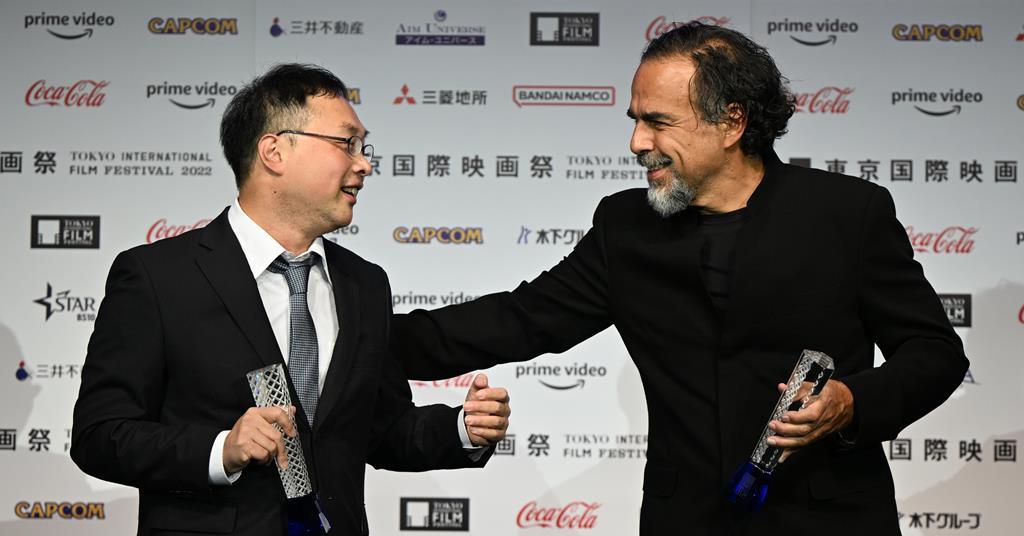 Koji Fukada Dedicates Kurosawa Prize to Struggling Japanese Film Workers | New
Filmmakers Koji Fukada and Alejandro Gonzalez Inarritu each received an honorary Kurosawa Akira award at the Tokyo International Film Festival on Saturday (October 29) and donated proceeds to support talent.
The Japanese Fukada is known for having directed feature films such as the title of the Venice competition Love lifewinner of the 2016 Cannes Jury Prize Un Certain Regard Harmoniumand the title of the Locarno 2019 competition A missing girl. But he's also a well-known activist who campaigns on behalf of independent filmmakers in Japan and has used his TIFF platform to draw attention to ongoing struggles in the industry.
"I grew up watching films by masters like Kurosawa, Ozu, Mizoguchi and Naruse, then went to film school," he said as he accepted the honorary award at a black-tie event at the Imperial Hotel in Tokyo. "There was a golden age of cinema in Japan, and during that time directors and crew were hired by the studios and their livelihoods were guaranteed.
"When I started working in 2000, the studio system had collapsed and the stability of the industry had been lost. Everyone was working as a freelancer. After 2000 budgets started to come down and we all had to live in a time of great instability. Then in 2020, the pandemic hit us all, including members of the film industry. Cinemas, too, were faced with the decision to close, due to the situation Many actors have taken their own lives, many are out of work, and we need to think about ways to protect those working in the industry.
"There is also the pressing issue of harassment, mental health and other serious situations in the film industry that we now recognize thanks to whistleblowers. We couldn't wait for a legal safety net, so we have established our own organization called Arts Workers Japan which is funded by donations and is in danger of closing. Since I received the award primarily for my activism, I would like to donate my award money to this vital service continues.
Arts Workers Japan was launched last year as a national network to support people working in culture and the arts. Fukada, who also highlighted the 'difficult environment for young filmmakers' in Japan during an onstage conversation at TIFF, will donate 1 million yen (£5,800) which comes with the Kurosawa Prize to the organisation.
Inarritu donates to the scholarship
Mexican filmmaker Inarritu will also donate his award to the ReconoceR Fellowship, which he co-founded with the University of Monterrey to help cover tuition and housing costs for young Mexican and Central American immigrants living in the United States.
The Oscar-winning director of The Revenant, Birdman and babel recalled how TIFF finances helped advance his career. "My relationship with Tokyo began 22 years ago, when I arrived at TIFF with Love Perros"said Inarritu. "I won two prizes and received $100,000 in cash, which changed everything for me.
"Seven years later, I came to shoot part of the film babel and lived here for five months. It was one of the most amazing experiences I've ever had as a filmmaker and one of the happiest experiences of my life. Then I was invited to be president of the jury in 2009.
"My relationship with Japanese culture has been very deep, from music to literature to cinema. To receive this award in the name of the master of masters, the god of the temple of cinema, who has had a profound influence on all other filmmakers, is such an honor.
The honorary awards marked the first time the Kurosawa Akira Prize had been awarded in 14 years. The award is given to filmmakers who make extraordinary contributions to world cinema and who are expected to help define the future of the film industry. Past recipients are Steven Spielberg, Yamada Yoji and Hou Hsiao Hsien.
Inarritu had arrived from New York the night before and screened his latest feature film, Bardo, false chronicle of a handful of truthsin the TIFF gala selection.
The three Kurosawa films he named in terms of importance to him were Rashomon, Ran and Seven Samurai while Fukada said his favorite Kurosawa feature was the 1970s Dodes'ka-den.