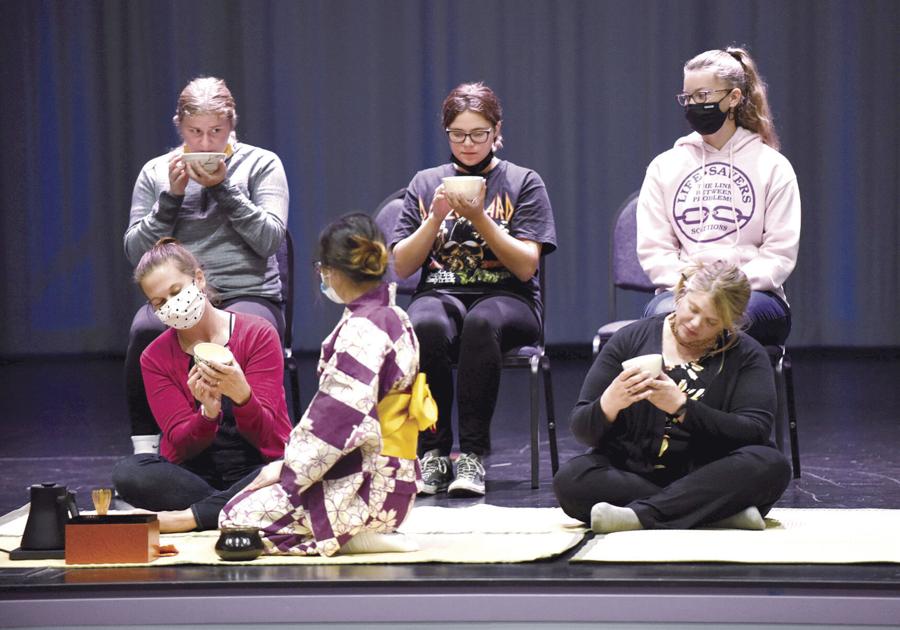 Monticello students receive crash course in Japanese culture from UI | Education
[ad_1]
MONTICELLO – As the old saying goes, "great minds meet".
It certainly occurred to Michael Darin of the Japan House at the University of Illinois when he got a call from Monticello High School Music Director Alison Allender looking for comment for their last fanfare show.
It happened the same day Darin was scheduled to call him to have the band perform for a Japan House premiere next month.
"Literally the same day I was getting ready to call the marching band, they called us and asked if there was anyone here who could help with their show based in Japan. They wanted information on Japanese culture, can -being the arts, other things that could apply to their show, "said Darin, a Monticello graduate who is now the education and engagement coordinator at Japan House.
Allender said the band's management "were looking for something different" for this year's show, and landed on a Japanese theme based on the "Legend of the 1,000 Paper Cranes."
"With the popularity of anime (Japanese style animation) and different books, there is a lot of interest in Japanese culture," Allender said. "I called the Japan House and explained what we were doing and asked them if they would be willing to do a presentation to teach our students more about Japanese culture.
"They were very interested in coming and actually showed the students a traditional Japanese tea ceremony."
The tea ceremony was presented to the group members in the high school auditorium, with explanations from Jennifer Gunji-Ballsrud, another Monticello graduate who is now director of Japan House.
She explained to the students that the tea ceremony is less about the act of drinking tea than about the state of mind.
"It's about harmony, and it's about harmony within the group to achieve something that's bigger than yourself," Gunji-Ballsrud said.
She said that the Japanese word for harmony is "wa," which can also translate to peace, calm, serenity and contentment.
It is such an important concept that it is included in the Japanese constitution.
Gunji-Ballsrud said the country's geographic location – 126 million people crammed into a land mass that could fit into the state of California – makes the pursuit of wa attributes important.
In this way, the tea ceremony, which includes little or no verbal communication, is a way to "take your time", to be more aware of the things around us and to let go. It also includes elements of respect and defecation towards others.
"It puts us in a frame of mind to be ready to contribute," Gunji-Ballsrud told the group.
You could hear a fly fly in the auditorium as Japan House's Diana Lao brewed tea for Allender and fellow director Amanda Allen and drum majors Katy Vogt, Rylee Kurth and Grace Stapf.
After the tea ceremony, Gunji-Ballsrud shared the "Legend of the 1,000 Paper Cranes".
According to tradition, folding 1,000 origami cranes allows this person to make a wish come true. She told the story of a 12-year-old child exposed to radiation in Hiroshima who attempted the feat after being diagnosed with leukemia. She managed to fold 644 before passing away a year later, but her classmates completed the task and buried the 1,000 folded cranes with her.
Gunji-Ballsrud thinks the story can speak to anyone, including a high school marching band.
"It's a fact that you do this as a group, and I think it will resonate with others; that you cannot create a performance of 1000 cranes yourself. You have to do it in a community by working together, "she said.
[ad_2]