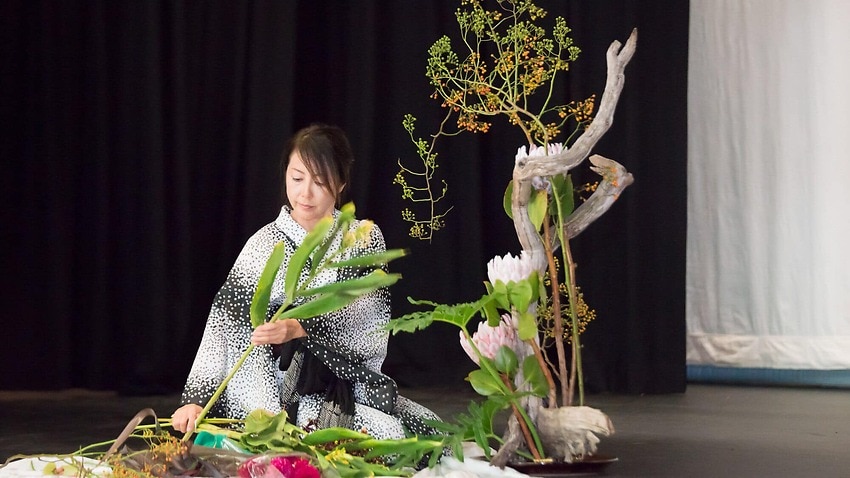 SBS language | Passing on Japanese culture to the next generation
When Mikiko Inoue graduated from college in Japan, she joined a large Japanese company with a 300-year history, hoping for a successful career.
However, after a few years, she began to feel stressed by the disparity between men and women in the business, their old habits, and the daily commute on crowded trains. It was during this difficult period that the "flowers" came into her life.
Mikiko came across a photo book of artificial flowers, created by gluing fabrics together using an iron. She was so drawn to the art that she contacted the author directly and was invited to attend his classes.
Her love for flowers grew, so she quickly became a licensed florist. 3 years later, she quit her job to start a new life as a florist.
Mikiko came to Australia in 2014 and established Kent Florist in Brisbane 5 years later, specializing in Ikebana and Kokedama arrangements, terrariums and herbaria. She also organizes regular workshops.
One of his popular classes is the kokedama or foam ball workshop. The kokedama is said to have originated from bonsai, where its roots are exposed above ground, covered with a special ball of soil and moss.
Mikiko says that although the term kokedama is widely known today, when she arrived in Australia it was not known. However, after showing her kokedama arrangement to a local florist, she was invited to start a workshop and the attendees grew.
For Valentine's Day, workshops for couples to create a heart-shaped komedama are popular, says Mikiko.
Besides working as a florist, Mikiko also runs a small Japanese antique shop, where she sells kimonos, hair ornaments, Japanese bags, fans, kokeshi dolls, just about anything Japanese.
"I love Japanese culture"
Besides ikebana, Mikiko plays the "Japanese harp" or koto and practices karate and ancient Japanese martial arts, to name a few.
She also founded the "Kimono Culture Club" with her knowledge to provide a place where people can experience Japanese culture. The group members are not only Japanese, but also people from all walks of life who have been exposed to and mastered various aspects of Japanese culture, including tea ceremony, koto, taiko, martial arts, floral arrangement and the Japanese language.
"My mission is to transmit Japanese culture to the next generation"
For Mikiko, the most important thing in teaching Japanese culture is respect. And with respect, she says people can enjoy culture without being overly restrictive or traditional. It must be "applicable and, above all, pleasant"
For an audio interview in Japanese
Listen to Japanese SBS radio on Tuesday, Thursday and Saturday from 10 p.m.
You can listen to our past stories from our podcast
And don't forget to visit the Japanese SBS Facebook page!