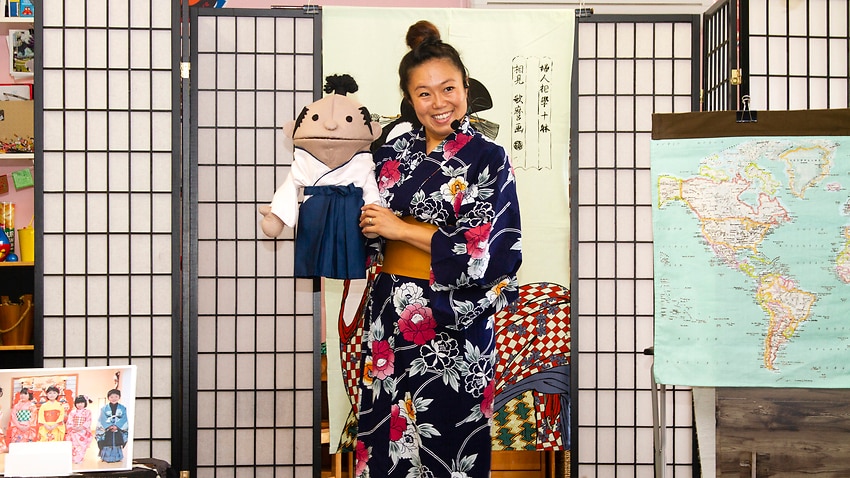 SBS language | Use traditional resources to bring Japanese culture into the classroom
[ad_1]
A former kindergarten teacher in Japan, Aiko Shiga came to Australia in 2008. Her passion for preschool education continued in Australia, so Aiko continued her education in children's service while working in a local daycare.
Seeing the diverse cultural backgrounds in the classroom, Aiko quickly used her Japanese props and songs to engage with the children.
"In a multicultural society like Australia, I felt the need to share my Japanese culture with the children"
Children responded positively to these accessories that Aiko was so used to during her years teaching in Japan.
After Aiko saw one of the foray performers at her daycare, who educated the children on cultural differences, Aiko knew "that's what I wanted to do"
Aiko officially started her career as Wasabi children Animator in 2019, visiting daycares, daycares and family daycares.
His program uses the traditional Kamishibai or storyboards, traditional songs, hand games and dancing. She even does ventriloquism using handmade puppets.
His stories are drawn from Japanese folk tales, which children in Japan grow up listening to and reading.
"These are great moral messages," Aiko tells SBS Japanese.
"When the children saw the story board, they sat very calmly and paid attention. The story was great because it has a message for the kids and it got the kids thinking during the storytelling," said Maroubra Little Learning School in their testimonials. .
Aiko says Japanese folk tales can be "scary" or "aggressive" at times, so she always makes sure to tone down those scenes.
Aiko enjoys making her puppets and props, so her handmade scene is always a hit.
"I've never been good with technology," says Aiko, who during the first 3 months of the pandemic struggled to move her business online.
After seeking advice from various people, researching and enlisting the help of his partner, his business was not only up and running, but also flourishing.
Today, Aiko performs not only in front of Australian children, but also in front of Japanese children living in Australia, as well as in front of children living in Japan.
"I was surprised that whatever the language, the children laughed and enjoyed the same parts"
Through her captivating and interactive show, Aiko encourages Australian children to discover and understand Japanese culture. She also plans to use her platform to educate Japanese children living in Australia on the calendar of traditional events like Tanabata (star festival) and Hinamatsuri (doll's day or girl's day) which are easily forgotten in a foreign country, as well as the teaching of English to Japanese children living in Japan.
Aiko says that seeing children giggling or asking to "come back tomorrow" is the most rewarding part of her job.
"I love it when I get comments that the kids are still singing Japanese songs a month after the show"
Listen to Japanese SBS Radio Tuesday, Thursday and Saturday from 10 p.m.
You can listen to our past stories from our podcast
And don't forget to visit SBS Japanese Facebook page!
[ad_2]